GLURP malaria vaccine development team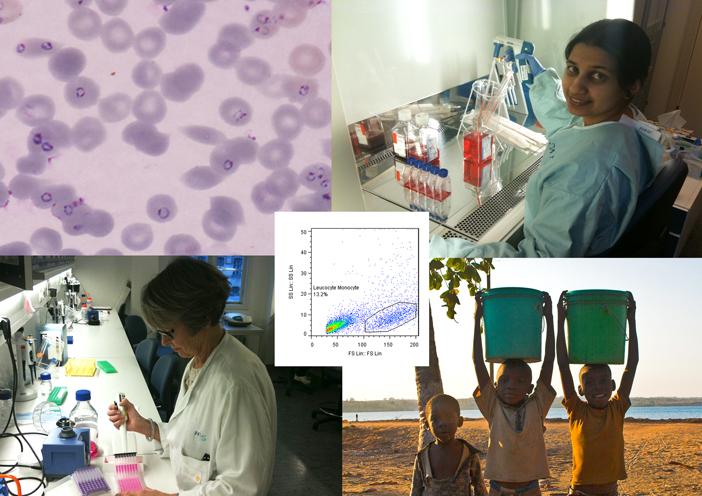 Mission and vision
An estimated 1 million children die from malaria each year on the African continent. Our mission is the development of vaccines to control the severity of malaria cases.
The GLURP team
We are an international team, consisting of scientists, medical doctors and students from different continents. The team leader Michael Theisen is the inventor of GMZ2, a malaria vaccine candidate that is currently in phase IIb clinical trial in Africa. Besides continuing the development of the GMZ2 vaccine candidate, we aim at developing assays for monitoring the quantitative and qualitative immune response to vaccine candidates and various known malaria antigens. Part of our research is immunogenetics, which involves looking at the host genetic factors that may influence host immune response to and the outcome of malaria infection. New areas of research within the group are development of transmission blocking and multi-stage vaccines.
The GLURP team is situated partly at Centre for Medical Parasitology (CMP) and partly at Department of Clinical Biochemistry and Immunology, Statens Serum Institut (SSI).
Focus of research
Vaccine development
Antigen production
Adjuvant/Formulation
Clinical trials
Immunology
In vitro functional assays
Humoral immunity
Immunogenetics
Susceptibility to disease
The lab-work is mainly focused on genetics, serology, molecular biology and protein chemistry, where some of the techniques applied are flow cytometry, bead-based assays (Luminex), PCR, protein expression (BioFlo-310 2.5 L bioreactor), purification (ÄKTAcrossflow and ÄKTAxpress chromatography systems) and characterization (SDS-PAGE, Western blotting, ELISA).
External collaborators
EMVDA
AMANET
Dr. Sanjay Singh (Gennova Biopharmaceuticals, Pune, India)
Prof. Robert W. Sauerwein (Radboud University Nijmegen Medical Center)
Daniel Dodoo University of Southern Denmark, Denmark and Noguchi Memorial Institute for Medical Research5, University of Ghana, Legon, Ghana
Peter Højrup Department of Biochemistry and Molecular Biology6, University of Southern Denmark, Denmark
Subhash Singh Indian Institute of Integrative Medicine Canal Road, Jammu, India
Randall F. Howard Infectious Disease Research Institute, 1124 Columbia Street, Suite 400, Seattle, WA 98104, USA
---
For more information about this team, please contact the GLURP team leader